Volunteer
Volunteers are essential to the mission of Share Our Spare. We have volunteer opportunities at our Sharehouse for individuals, young people six years and older, families, clubs, churches, schools, service organizations, corporate teams and others. Volunteers keep the gears turning, breathe life and energy into our space, and everything they do has a direct impact on the wellbeing of our community's children.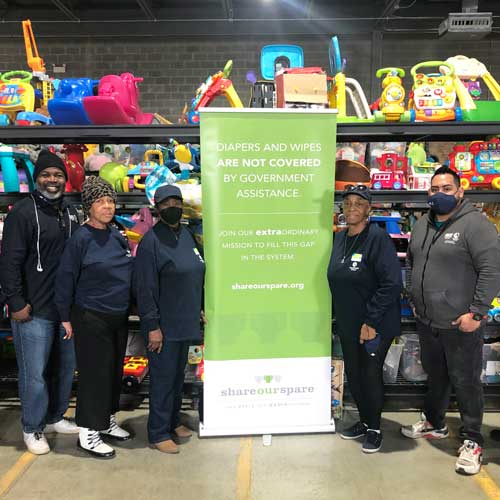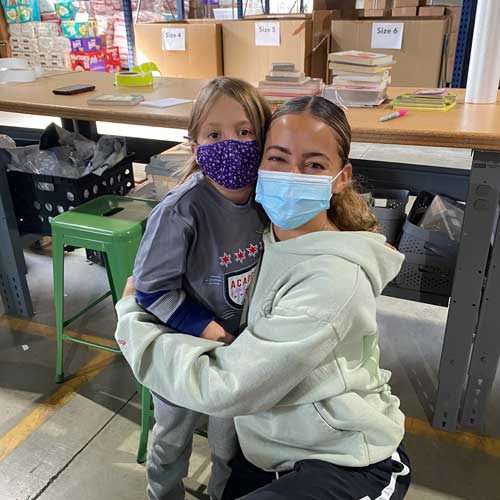 Open Volunteer Days
During open volunteer days, we invite individuals and groups to sort items, such as kids' clothing and toys, inventory donations and assemble clothing kits. Markers, crayons and notepaper are provided for children to write a special note to the child or family receiving the SOS kit. Volunteers are asked to bring an item to donate.
Private Events
You can reserve the Sharehouse for a private volunteering event that brings together your work, faith, neighborhood or school community. OR, make it a Sip N Serve night by bringing a bottle or two of wine for your adult friends to share while volunteering. Each member is asked to bring an item to donate.  Contact us to schedule your private event.
Kitting
If you can't come to us, consider hosting a remote kitting project. You can collect supplies and assemble newborn or hygiene kits in a location that is convenient for your group.
Location & Parking:  The Sharehouse is located at 3800 N. Milwaukee Ave. in Chicago's Old Irving Park neighborhood. The parking lot and entrance is on Milwaukee Ave. The door is located at the far end of the parking lot past the playground. When you enter the building, you will walk down to the end of the first hallway and make a left. Then, you will enter our space from the second door on the right. There will be signs to help lead the way.
What to Bring:  If you are willing to donate items we are always most in need of size 5 and 6 diapers, pull-ups, wipes, period products, baby hygiene items and bottles. You are also welcome to bring in any gently used baby items you no longer need.
What to Wear:  We recommend wearing closed-toed shoes and dressing in layers as the temperature of our warehouse can fluctuate.
Minors:  Volunteers must be at least 6 years old for most volunteer sessions. There must be at least one adult for every two children between the ages of 6 and 10.