Donate Items
Turn Your Extra into Extraordinary
A child will sleep safely. Stay warm in the cold Chicago winters. Explore the city in their stroller and the world in the pages of a book. A mom will know that baby is clean and dry and has what they need. You can find purpose for your spare baby essentials and a second life for your gently used baby clothing and items by donating your extras to Share Our Spare.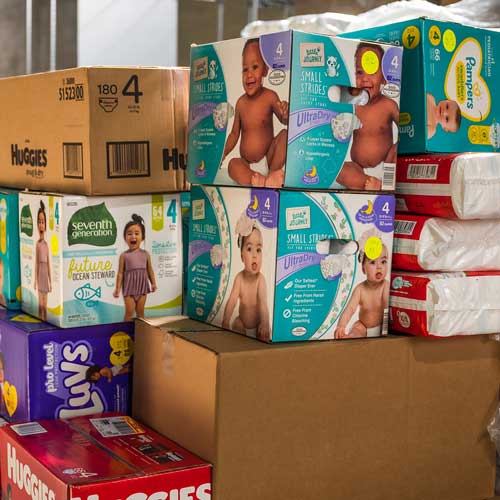 Donation Drop Off Schedule
Mondays and Wednesdays
10:00 am – 4:00 pm
Dates Closed
Monday, Nov 6, 2023
Wednesday, Nov 22, 2023 – Friday, Nov 24, 2023 – Thanksgiving Break
Monday, Dec 25, 2023 – Tuesday, Jan 2, 2024 – Winter Break
Donation Drop-Off Instructions
Donations are accepted at 3750 N. Kilbourn Ave. (the back entrance of our Sharehouse location).
The parking lot is located on the corner of Kilbourn directly across from the Metra stop. If you see taxi cabs in the parking lot, you are in the right place. Please park in a parking spot and be mindful of our neighbors and do not block any of the driveways.
Our door to enter the building is located between the loading dock and our neighbor's driveway. Come down the hall and look for the door that says "Share Our Spare."
If you have a large volume of items, we have carts available to make your unload easier.
Accepted Items
Baby Soap, Lotion, Diaper Cream
Baby Washcloths
Bibs
Bottles & Sippy Cups
Burp Cloths
Combs & Brushes
Diapers & Pull Ups (all sizes, open packs accepted)
Formula & Baby Food (unopened & unexpired)
Nursing Supplies: Pads, Tubing, Milk Bags, etc.
Pacifiers & Teething Toys
Period & Perineal Products (open packs accepted)
Wipes (unopened)
NEW or LIKE NEW
Large Gear*
Baby Swings
Bassinets
Bed Rails
Exersaucers
Gates
High Chairs
Pack N Plays
Play Mats
Strollers: Single, Double, Snap N Go
NEW or LIKE NEW
Small Gear
Baby Carriers
Bathroom Gear: Tubs, Potty Seats, Step Stools
Boppy & Pregnancy Pillows
Bottle Sterilizers*
Changing Pads
Small Seats: High Chairs, Bumbos
Wipe & Bottle Warmers
NEW or LIKE NEW
Essentials
Baby Blankets, Sleep Sacks, & Swaddles
Baby Towels
Books: Children & Parenting
Clothing & Outerwear (Children sizes NB-6/7)
Diaper Bags
Maternity Clothes
Monitors & Sound Machines*
Plates, Bowls, Utensils, etc. (Toddlers ONLY)
Safety Items
Shoes (Children sizes 0-12)
Toys* (Small & Educational ONLY)
*Please ensure all pieces are included prior to donating
Items SOS Does Not Accept
Baby Food Processors & Formula Makers (Recommendation: Humble Design, Chicago Furniture Bank, & Digs With Dignity)
Car Seats (Recommendation: Check manufacturer for recycling or buyback programs)
Diaper Pail & Refill Bags
Diaper Booster Pads & Disposable Changing Pads
Furniture: Cribs, Chairs, Mattresses, Changing Tables, etc.
(Recommendation: Humble Design, Chicago Furniture Bank, & Digs With Dignity-NO CRIBS)
Nursery Décor (Recommendation: Humble Design, Chicago Furniture Bank, & Digs With Dignity)
USED Bottles & Sippy Cups (Recommendation: Bottles are typically #5 plastic that can be recycled)
USED Pacifiers, Nipples & Nursing Supplies (Recommendation: These items should be thrown away)
See how Archie turned his extras into extraordinary!