Donate Dollars
Your financial gift to Share Our Spare goes a long way! Through an efficient operating model, driven by volunteers and in-kind goods and services, 88% of your dollars go directly to supporting children and families. Our wholesale purchasing power also enables us to fill a critical diaper need at half the cost.
Amazon Registry
Appreciated Stock
Your gift of appreciated stock can help families and offer you additional tax benefits. If you're interested in donating appreciated stock, please contact us for instructions.
Employer Matching Gifts
Many employers match employee donations to nonprofits. Please check to see if your company will match all or a portion of your donation!
Planned Giving
Create a lasting legacy by leaving a planned gift to Share Our Spare in your will or trust.
See some of the ways your dollars are put to work.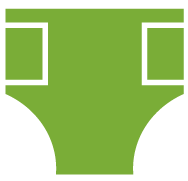 Diaper costs have increased at 2x the rate of overall inflation since 2019.
2019
average cost per diaper
2022
average cost per diaper