SOS Donation Pick-Up Service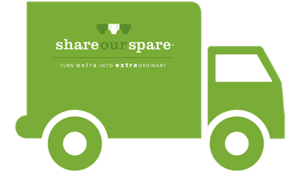 Share Our Spare is now offering a residential pick-up service to make it easier to get your donations to families in need. Our SOS Truck is serving metro Chicago and select suburban locations within a 30+mile radius of our River West warehouse.
Here are a few helpful things to keep in mind before you schedule:
Make sure to double check the list of items we accept here. Share Our Spare does not accept cribs, car seats or furniture.
The Share Our Spare driver is unable to enter your home to collect donations. Please make sure to bring everything outside when the van arrives or leave your donations in a safe, covered, accessible area.
Pick-ups are organized according to specific geographic areas. Check our calendar so you can see when we will be in your neighborhood.
We ask for a $25 donation for all pick-ups to cover the cost of our staff, gas, and van. Thank you for your generous support of our work!
Use code SHARE at checkout, for free donation pickups of our highest-need items: diapers, strollers and Pack 'N Plays.
Ready to turn your extras into extraordinary? Schedule your pick-up today!
If pick-up times are all reserved or the days available do not work for you, don't worry we'll be back soon! You can always drop off at the Sharehouse at 935 W Chestnut Street, Chicago 60642.